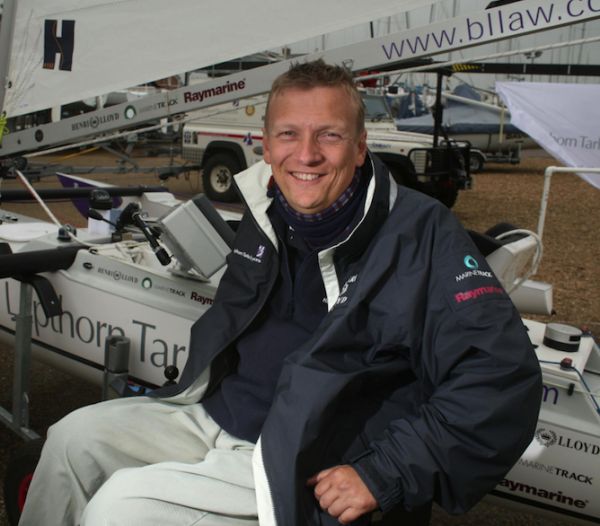 Geoff Holt MBE DL
Geoff conceived the idea of Wetwheels and has been the driving force behind the project. Paralysed from the neck down in an accident at the age of 18, he has maintained the belief that anything can be achieved given a positive approach and the support to help make that dream a reality. In 1995 he became the inaugural Chairman of RYA Sailability.
In 2007 he became the first disabled person to sail single-handed around Great Britain and in 2009 he sailed across the Atlantic Ocean unassisted. He was awarded an MBE for "Services to Disabled Sailing" in 2010 and named as the YJA Pantaenius Yachtsman of the Year shortly after. He has been a Deputy Lieutenant of Hampshire since 2012 and is a Council member of the RNLI. Geoff has 20 years experience in marketing & PR working for international accountancy firms and is the author of "Walking on Water" and is a professional speaker.
Here at Wetwheels Solent, we are fortunate to have a wonderful place in the hearts of so many, at the centre of our community. We have the ability to inspire people with disabilities, their families, teachers and carers. To enable and empower all who come onboard, supporting those from any background, with any disability, to share those same dreams that Geoff did.
But more than ever, we need your support.
We would be delighted to hear from any individual, company, community group or other organisation who would consider contributing to this cost of our summer operation - and make such a huge difference to the lives of so many. And we are already planning for 2021 where the need will be just as great, if not greater.
For our Maritime Adventures project combined with other trips across the year:
We will welcome 600 local people onboard Wetwheels with a range of disabilities, illness and health problems.
Total cost £27,000 - That is only £45 per person.
There is no 'magic money tree', we rely completely on the generosity of our friends and supporters to raise every penny. We cannot continue in our work without that support.
This not-for-profit cost includes the provision of the best levels of support, health and safety, mentoring, as well as the highest quality maintenance, equipment, training, and fuel.
How you can help
If you are hosting an event or selecting to support a charity over the coming weeks we would be hugely grateful if you were to consider Wetwheels Solent.
Through our JustGiving page, as well as donating quickly and safely, you can also set-up a regular donation.
Our small but dedicated team, led by Geoff, are always available to come and chat to you, discuss how we can support you in your fundraising, and talk about the wonderful journey we have taken and why it is so important to do more.
Every Donation really does count - thank you.
£10
Will help towards fuel costs when we take disabled people out for life-enriching experiences at sea.
Donate
£45
Will provide an exciting and truly memorable Maritime Adventure for one of our service users.
Donate
£100
Will pay for disability awareness training for one of our crew.
Donate
Donate by post
Please send a cheque made payable to 'Wetwheels Foundation' and send to: Wetwheels Solent CIC The Victory, Land Sec, Gunwharf Quays House, Gunwharf Quays, Portsmouth, PO1 3TZ
Donate by text
Text WETW33 £5 to 70070 to donate £5 to Wetwheels and make a difference today.
Donate by bank transfer
Please make payment to: Wetwheels Foundation,
Sort Code: 40:52:40
Account Number: 00024963